Trivia: Two Mondays ago, it was National Coffee Day.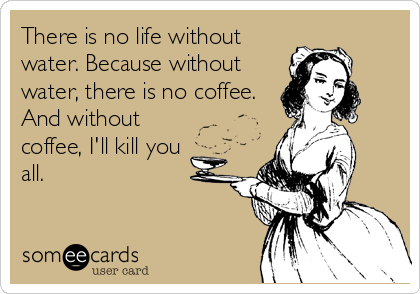 In preparation for this momentous occasion, I figured I would combine the taste of two favorites: coffee and alcohol.
Trivia: 57% of coffee drinkers add some sort of sweetener to their drink.
I am not one of those people. I like my coffee beverages the way I like my soul, my men, my women and my humor. Don't analyze that sentence with the stereotypical ending, either. Now that I've thoroughly confused you, suffice to say I understand the desire of most female coffee (and alcohol) drinkers for something sweet.
Trivia: Between 20% and 30% of coffee sales are comprised of flavored coffees (i.e. chocolate, vanilla, hazelnut, caramel, and cinnamon).

This is based on a recipe torn from inside "Cosmopolitan." I shifted things around a bit, with feedback from one of my girlfriends, who came over this weekend for a day of cocktail experimenting, pizza-dough making, and film-noir watching. (By the way, films from 1948 have amazing "Is it Good or Is It Bad?" pick-up lines, despite their lack of cultural variety.) Don't worry, the pizza dough recipe is coming later this week.
The original magazine tear-out called for half-and-half. While shopping for ingredients, I pulled a small carton of fat-free half-and-half, because I wanted to be mindful of the figure-conscious ladies who read this blog. (Thanks for sticking around through the numerous bacon mentions, by the way. You girls rock.) My verdict? It tastes disgusting, and coated my tongue more thoroughly than heavy cream. While searching for ingredient alternatives and cross-referencing other "coffee-tasting dessert cocktails," I noticed how many after-dinner drinks are dairy-based. Not so much fun for people like my Mother, Aunts, or the 65% of the population who identify as Lactose-Intolerant. Raise your hand if you order your Starbucks, Coffee Bean, Peets, or anything in-between/indie with almond milk, since soy milk has the major-estrogen-it's-actually-bad-for-you-if-you-drink-it-every-day thing going on. That's what I thought.
Using almond milk turned out to be a phenomenal solution. Counter-intuitively, it mellows out the sweetness from the Kahlua. Add one of those hyper-feminine flavored rims, and your adult quasi-iced coffee/quasi-chocolate milk is served.
Iced Coffee Cocktail (for one, double the proportions for two if you've already had one on an empty stomach)
1 shot Jack Daniels Tennessee Honey Whiskey
1 shot Kahlua
2 shots Unsweetened Almond Milk
Honey (optional)
Unsweetened Cocoa Powder (optional)
Graham Cracker Crumbs (optional)
Ice
If you're going for presentation (and flavor) points and making the graham cracker/chocolate rim, use the tip of your finger to spread honey around the rim of whatever glasses you'll be serving this drink in. Once the rim is suitably sticky (and you've made several inappropriate jokes about this), pour equal parts cocoa powder and graham cracker crumbs onto a paper plate, turn the serving glass upside down, and rub the glass around and about on the plate to coat the rim with deliciousness. (Make more sexual jokes during and after this part.)
Place ice in both the cocktail shaker. (If you don't have a cocktail shaker, improvise with some sort of mason jar type deal. If you've gotten as far as buying the ingredients, there's no going back now.)
Shake the whiskey, Kahlua, and almond milk over ice, and strain into the serving glass.