One of the reasons self-diagnosed lachanophobics still risk the possible horror of eating vegetables is the possible magic of beautiful and delicate flavor. Sometimes it's best to steer into the curve and forgo meat in favor of vegetable authenticity. Plus it couldn't hurt to throw the vegan, gluten-free members of my core a bone. Or carrot top, since nothing they eat involves bones. Hey! No judgment. This recipe is warm and luscious with a spicy edge, just like that George Clooney scene in "Out of Sight." See below for reference.
As an alternative, I also present a synonym to this level of steaminess: Jessica Alba and Paul Walker in "Into the Blue."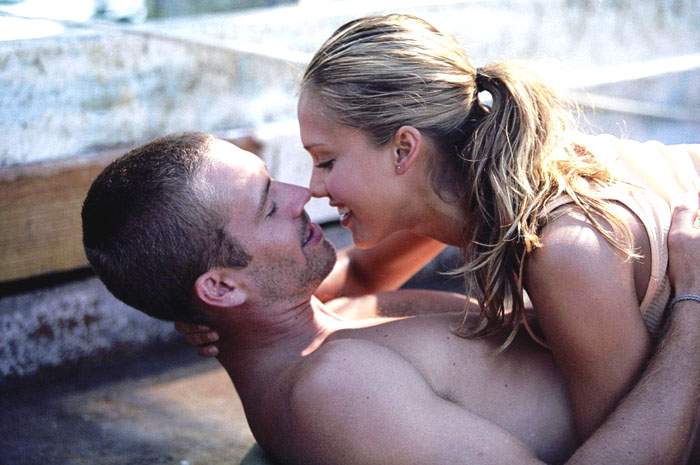 This recipe is from a Jean-Georges cookbook, which makes it elegant and flavorful, with a hint of food-snob. Get "kinda interested," in this one. I know you're probably not in the market for a celebrity chef commitment, but this recipe takes less than an hour to throw together. That's not even enough time for two episodes of "Friends" on Netflix.
The light-hearted references aside, this is one of those perfect recipes that will make you look like a more talented cook than you actually are. Your day will change. And don't worry, it's not always perfect in Curating My Cooking Land. Later this week, I'll update you on what happened when I tried to mess with creamy salad dressing. For now, just make these carrots.
Roasted Carrots with Whole Cumin and Citrus
Ingredients:
1/2 pound medium carrots – peeled
3 garlic cloves – finely chopped
1/2 teaspoon cumin seeds aka "Whole Cumin" if you shop at Vons or Whole Foods
1/2 teaspoon fresh thyme leaves
Red Chili Flakes
Salt and Pepper
Equal parts (about 1 to 2 tablespoons each) Red Wine Vinegar and Extra Virgin Olive Oil
1 orange
1 lemon
Pre-heat the oven to 350 degrees and bring a pot of water to a boil. Salt the water and boil the carrots for 20 minutes.
While the carrots are boiling, combine the garlic, cumin seeds, thyme, red chili flakes, salt, and pepper together in a bowl. Whisk in the red wine vinegar and extra virgin olive oil.
Remove the carrots from the boiling water with tongs, so they keep their pretty shape. Place in a small baking dish, and pour the cumin seed dressing/marinade thing over the top. Slice the orange and lemon in half – squeeze the juice on top of the carrots, and leave the halves resting on top during the roasting process to infuse the flavor.
Roast for 25 minutes.
Shazam. Flavor.