It's finally happened – a valuable experience and great recipe system that tasted fantastic….that I'm never going to use again. Ever.
Everyone deserves chocolate. The people skilled enough to work with it on a regular basis have always received volumes of respect from me. Primarily because, per usual, I'm petrified of messing up an expensive ingredient.
There's a chocolate shop by the wonderful Jonathan Graham within walking distance of our apartment that we frequent much more often than we should. We try to go whenever a newly developed flavor gets advertised on Twitter or Instagram because we're stereotypical twenty-something with an extreme reliance on social media.
On one of these excursions, I fell into conversation with Chef Graham himself. We chatted about the usual Wonka things: how his pine-nut truffle surprised my palate, why Scharffen Berger chocolate's 70% cacao dark is delicious even though it almost burns the tongue because it's so bitter….and my fear of working with various weighed forms of sugar, butter, cream, and other sweet mix-ins. I'm no world-renowned chocolatier, as I was soon to discover, but I agreed to try making truffles.
Per always when I'm intimidated with dessert-related things, I took to Twitter to contact Johnny Iuzzini. Holy cow, this man's social media accounts are a security-blanket gold mine for people having sweet-toothed troubles. Soccer moms with upcoming bake sales, sexy singles hoping to catch his eye with provocative comments, culinary students wanting to follow in his footsteps, and now my dog-and-pony show all constantly seek his words of wisdom. As always, I was hugely grateful for a prompt response.
My second attempt at making the ganache was extremely successful, thanks to his advice. The final truffles had a great texture and decadent, luxurious flavor.
A Sydney-Proof Guide to Truffle-Making:
Chop 12 ounces bittersweet chocolate.
Per the successful instructions of Johnny Iuzzini: Bring 1 cup of heavy cream to a simmer over medium heat. Add the chocolate to the cream in three parts, stirring from the center with a rubber spatula. Once the chocolate and cream are completely mixed, melted, and emulsified, finish with 1 tablespoon of butter and a pinch of salt.
Flavor the ganache by whisking in 1 teaspoon vanilla extract OR 1/2 teaspoon vanilla extract with 1/2 teaspoon almond, orange, mint, raspberry, or cherry extract.
Mix peanuts, almonds, Nutella, or shredded coconut into the ganache, if desired. I chose Nutella, because it tastes like spoonfuls of lust in between love-making sessions.
(Note: For any sort of flavor resulting from liquid….i.e. espresso, tea, brandy, bourbon, rum, Grand Marnier….this will need to be mixed/infused into the cream to taste, brought to a simmer, then strained before re-simmering and starting the first step of mixing cream with chocolate. No one said this was a quick process, people.)
Stir the ganache until smooth and shiny. Refrigerate for three hours to overnight until firm.
Once the ganache is firm, use a tablespoon to roll into balls. Roll these proto-truffles in: cocoa powder, crushed nut brittle, crushed toffee bars, crushed cookies, shredded coconut, or chopped toasted nuts.
Once the truffles are coated, refrigerate or freeze until firm.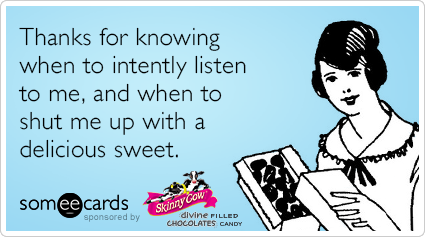 So why am I ending my fling with truffles? Well…..I'm not always one for instant gratification. Slow, steady, and sensual is a phenomenal way to go. I just didn't have the patience to sit around and wait for these damn things to solidify. The multiple steps….stress over the ganache texture….I'm not sure if it was one or multiple things that turned me off.
Life must go easy on us, and our food. If you're blessed with patience or an extreme love of chocolate, this won't seem like too much of a commitment. Please ride with your truffles into the sunset. I will happily support your union…..from the Godiva counter.