Lately, the weather in LA has been sporadic at best. This past week has consisted of me lounging on the roof in a bikini like a 1960s music video in 91-degree weather, shivering in the fetal position in the morning, and yesterday….it rained. Whine, whine, whine.
Cut to: 91 degrees in LA.
As a result of the heat, I don't feel like moving, but have promised to make dinner. My ever-helpful boyfriend perkily asks what I'm thinking of making while watching me stare blankly at the contents of the fridge. I realize I'm going to have to go to the market. Damn it. I was hoping to not have to dress in socially-appropriate clothing once I changed out of my fierce work attire. Wait! Maybe I can make something with what's here….Let's see: cilantro and chicken sausage over here….eggs on the top shelf…..are there tortillas? Maybe if I add some cumin and….
"Babe? Did you hear me? What do you think you're going to make?"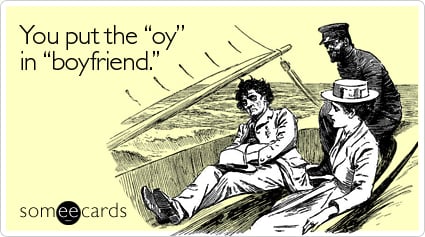 My guy. Always punctual. 
I made up an excuse. "I'm just waiting to see if someone else (i.e. Awesome Roommate) is in. I have to know if I'm cooking something vegan or not." Awesome Roommate looks up – not having processed the selfish nature of my dilemma – and says, "What are you making?" Which is obviously the most helpful thing he could have said.
"I'm not sure. That depends….are you in?"
"I'm in!"
Perfect. I'm cooking a vegan meal with a fridge primarily consisting of chicken sausage and eggs.
The heat wasn't helping things. I decided to combine as many fresh ingredients as possible for something light, refreshing, and fantastically cold: gazpacho. Cooler than Wendy Peffercorn.
Tomato and Watermelon Gazpacho
Ingredients:
4 medium tomatoes – chopped

4 cups diced seedless watermelon
1 cucumber – peeled, seeded, and chopped
1 yellow bell pepper – chopped
3 green onions – sliced
1/3 cup fresh basil and mint
1/3 cup Extra Virgin Olive Oil
3 tablespoons white wine vinegar
Combine all ingredients except the olive oil and vinegar in a large bowl. Season with kosher salt and pepper to taste. Stir in the olive oil and vinegar. Puree in batches, then strain (trust me, straining this mixture is important – chunky gazpacho is gross) into a large serving bowl. Chill for 1 hour before serving.